Laminate is a popular flooring choice. It is an affordable, durable material that is easy to install and maintain. Several manufacturers offer warranties for their laminate products, ranging from 10 to 25 years. Many people also opt to add laminate to their countertops and cabinets. The material can also be found in high-traffic areas like commercial offices and home offices.
There are three main layers in a laminate floor. They are the core, the decorative paper layer and the wear layer. Each of these is designed to provide a variety of benefits to the user. The core is made of melamine resin, which hardens into a tough plastic. This makes laminate resistant to scratches, abrasions and impact.
The decorative paper layer can be printed in various colors and designs, giving the planks a unique look. Some laminate floors even come equipped with water-resistant coatings.
Laminate is a multi-layered synthetic material that is often harder than real wood. It is a good choice for households with pets or families that enjoy entertaining. Because it is a durable material, it can last decades if properly cared for. When it comes to maintenance, it's a lot easier to clean and care for than real wood. But be sure to wipe away moisture from your laminate as soon as it dries. Leaving it to sit will cause the surface to warp.
For maximum protection, laminate flooring should be installed on a solid subfloor. If you have an uneven subfloor, you may find it difficult to click your planks together. Also, be careful to avoid damage by squeezing or scratching the edges.
The best way to keep your laminate floor looking its best is to vacuum frequently and sweep it. In addition, you can apply a stain to give the material a more realistic look. You can remove stubborn stains with a good wood floor cleaner. However, you should remember that a stain will never completely dry.
Laminate has become popular in the past decade. It is particularly well-suited for high-traffic rooms. It is sturdy and can withstand impacts and scratches, and many manufacturers offer a 10- to 25-year warranty on their finish.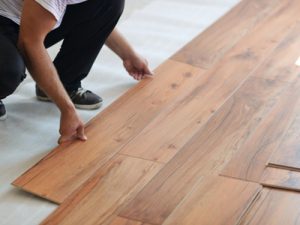 Laminate is a great choice for homeowners looking for a cost-effective, durable and stylish flooring option. Laminate is a versatile product that can be used in a wide range of applications. Whether it is for a home office or an industrial warehouse, there are options for every type of design. From marble to zebra print, there are laminates to match any decor.
While the cost of installing a laminate floor may be less than a hardwood floor, the durability of your laminate depends on the amount of foot traffic you have. And if you aren't confident in your skills, you can have your laminate professionally installed to make the process easier.
Although laminate is a durable material, it's best to take steps to protect it. One way to do this is to place felt or foam underlayment underneath the floor. These pads are meant to soften the footfall and allow for better adhesion of the materials to the floor. Additionally, you can purchase special underlayment that prevents the laminate from warping.
Things to Keep in Mind Before Buying Laminate Flooring