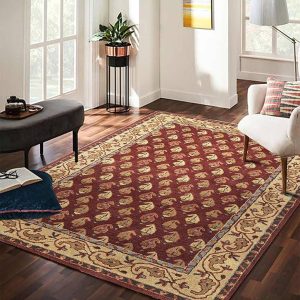 A carpet is a type of textile floor covering. It consists of a thick layer of pile attached to a backing material. Typically, the fibers used to make the pile are synthetic. The yarns used are usually nylon or polyester. These materials are less expensive than wool.
Traditionally, the pile was made of wool. But new manufacturing processes are making carpets of other materials as well. One such process is polypropylene. Polypropylene is a type of polyolefin that is resistant to abrasion, but is not as durable as wool. However, its natural resistance to fade and stain makes it an excellent choice for many applications.
Another manufacturing process involves a method of dyeing. In this method, dyes are applied to the fibers before they are woven or tufted. This ensures that the color is uniform. Many dyes come from natural sources such as insects, plants, and mollusks. They are also durable and have a remarkable level of color subtlety. Natural dyes are available in a variety of hues and shades, but they may not be as vibrant as those from artificial sources.
Carpets can be manufactured using a tufting machine, which looks like a large sewing machine. This machine has between 800 to 1,200 needles. If the needles are not lubricated, they can become loose. During this process, the tufts are pushed through the backing of the carpet.
There are several types of carpets, including cut pile, plush, and loop. Each has its own unique look. The most common pattern is plush. Other patterns are asymmetric, multi-colored, and geometric. Some rooms require a more delicate material for wear and stain resistance.
Most carpets have a finished coat of stain-resistant spray. It is important to choose a carpet that has a tight twist in the fibers. You can check this by bending one corner of the carpet.
The thickness of a carpet is another consideration. Carpets with more twists per square inch tend to have better shape retention. Lastly, the density of the carpet is a factor. Having a carpet that is dense will help protect it from abrasion.
Generally, a dense pile and a low nap are recommended for high traffic areas. However, you should always consider your needs before purchasing a carpet. Purchasing a cheap one could mean you will need to replace it within a few years.
The most expensive fiber for a carpet is wool. It has a soft feel, absorbs noise, and offers excellent protection against stains. Wool rugs have a tendency to last for up to fifty years.
Polypropylene is the most commonly used synthetic fiber for a loop pile carpet construction. It is less expensive than wool and is resistant to abrasion. Although it is naturally fade and stain resistant, it is a bit more difficult to dye than wool.
Polyester is also commonly used for a loop pile construction. It is less expensive than other synthetic fibers, but it is not as durable as wool.